Our next event:
TERRY BOARDMAN:
Britain and Europe – Problem and Solution
Friday 22 Sep 2017, 8.00pm

British 'independence' from the EU without independence from Britain's real controller, namely the USA, is only an empty word. Britons have to decide whether they want to kick the 250 year-old addictive and chauvinist habit of world domination. The way forward for Europe is not as a unitary federal state, which Eurocrats have always aimed for – a supernation state called 'Europe' – but as an associative threefold confederation between America and Asia: a Europe-wide economy and a Europe-wide cultural life but with national, political and legal sovereignty for the peoples of Europe. The threefold social organism (separation but interrelation of the three spheres of culture, politics, economy), based on a moral economy, is the healthy model for the 21st century.
Terry is a freelance writer and lecturer in history and current affairs, and a renowned Rudolf Steiner scholar. Also a translator in Japanese and German, Terry gained a BA in History (Hons) in 1973 at Manchester University and gained a diploma in Eurythmy in 1988. He is the author of
Mapping The Millennium – Behind the Plans of the New World Order
(1998, Temple Lodge) and
Kaspar Hauser – Where Did he Come From?
(Wynstones Press, 2006), and was translator of the award-winning
The Ashio Riot of 1907 – A Social History of Mining in Japan
by Prof. Kazuo Nimura (Duke University Press, North Carolina, 1997). Terry is translator, editor and regular contributor at
The Present Age
monthly magazine and is a regular contributor to
New View
 quarterly magazine. Terry's current interests are East-West issues, the First World War, the Threefold Social Organism, the New World Order, Britain and the EU, and Kaspar Hauser.  Find out more about Terry at:  
www.threeman.org 
Lecture evenings also include Andy Thomas's regular round-up of the latest news and chat from the world of mysteries and truthseeking research.
*
All meetings are held on Fridays and begin at 8.00pm, prompt, and are held in the upstairs room of our venue.  Admission £7.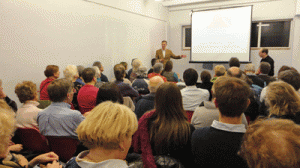 *
WHEN:  8.00pm, Friday 14 July 2017
Admission £7
VENUE:  The Scout Centre (upstairs room), Station Road, Burgess Hill, West Sussex, RH15 9EN
Details can be found on the Venue Directions (our venue) page
Full car parking is available at the Scout Centre