OUR NEXT EVENT:
Neil Geddes-Ward:  Encounters With Faeries, Ghosts and Spirits
Friday 24 March 2017, 8.00pm

Through his own research and meetings with ordinary folk, Neil Geddes-Ward takes us through some of the extraordinary encounters which people have reported – even sceptical people with no interest in the paranormal – sharing evidence of people's encounters with the faerie world, ghosts, spirits and other strange phenomena. Throughout, we meet the man who saw a strange lady on the roof of a church, a small being cutting around the shoe of a holidaymaker in Ireland, the ghost who was scared of people, the girl whose spirit was spotted by doctors, the Indian in the cupboard, séances that were not real, séances that WERE real, the strangers walking through the wall of a mosque, and more, as Neil relates anecdotal tales and experiences of everyday people having other-worldly encounters…
Co-author of the book Faeriecraft with Alicen Geddes-Ward, published by Hay House, Neil is a Pagan and visionary artist, producing artwork for publications and prints. He has appeared on TV and radio discussing paranormal dreams, faeries and ghostly encounters, and has spoken widely in the US and the UK, and conducted workshops. Neil specialises in psychic development and studies ordinary people having extraordinary experiences. He has also taken part in researching ESP with Dr Peter Fenwick and makes short films discussing UFOs, 9/11 and other important mysteries. Neil runs the High Wycombe Paranormal Meet-Up group, where speakers on anything paranormal appear once a month in a pub setting. Neil recently spoke at the popular Probe UK conference in 2016 at St Helens.
Lecture evenings also include Andy Thomas's regular round-up of the latest news and chat from the world of mysteries and truthseeking research.
*
All meetings are held on Fridays and begin at 8.00pm, prompt, and are held in the upstairs room of our venue.  Admission £7.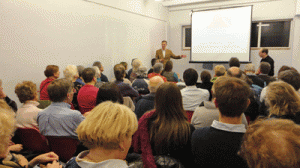 *
WHEN:  8.00pm, Friday 24 March 2017
Admission £7
VENUE: The Scout Centre (upstairs room), Station Road, Burgess Hill, West Sussex, RH15 9EN
Details can be found on the Venue Directions (our venue) page
Full car parking is available at the Scout Centre