Our next event:
ANDY THOMAS:
Crop Circles of 2017
Friday 10 November 2017, 8.00pm

The ever-controversial but beautiful crop circle mystery maintained its presence in 2017, generating some very striking formations, if primarily in the UK. The mainstream media largely ignored or dismissed them, of course, and yet there is much still to say about this intriguing and dramatically persistent phenomenon. In this fully-illustrated presentation, Andy Thomas looks at every reported formation of 2017 from both the traditional British heartlands and the rest of the world, relating the stories behind them, highlighting important features and putting them into context with what has gone before …
Andy is a leading researcher into unexplained mysteries and is the world's most prolific writer on crop circles. His many books include An Introduction to Crop Circles and Vital Signs, described widely as the definitive circles guides, along with the acclaimed The Truth Agenda and Conspiracies: The Facts – The Theories – The Evidence. Andy extensively writes and lectures in Britain and abroad, and has made numerous radio and TV appearances. UK spots have included BBC 1's The One Show, Channel 4's Richard and Judy, BBC 2's Esther, ITV's GMTV, and Sky 1's Pineapple Dance Studios. He has also featured in television programmes in many other countries.
Lecture evenings also include Andy Thomas's regular round-up of the latest news and chat from the world of mysteries and truthseeking research.
*
All meetings are held on Fridays and begin at 8.00pm, prompt, and are held in the upstairs room of our venue.  Admission £7.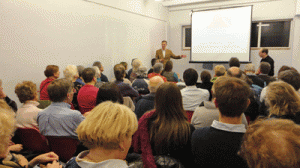 *
WHEN:  8.00pm, Friday 14 July 2017
Admission £7
VENUE:  The Scout Centre (upstairs room), Station Road, Burgess Hill, West Sussex, RH15 9EN
Details can be found on the Venue Directions (our venue) page
Full car parking is available at the Scout Centre