OUR NEXT EVENT:
HELEN SEWELL:  The Astrology of Current Events
Friday 14 July 2017, 8.00pm

Now that we are well into 'the New Era' of changed consciousness which began with the astrological chart of 21st December 2012, with world events seeming to grow ever-more complex and unpredictable, Helen examines the astrological influences that are affecting things today and discusses the exciting changes that we are experiencing, together with others we will see in the next few years, as determined by the movements of the planets. Helen believes that astrology deserves to be taken far more seriously and demonstrates how its impact and reality can be clearly seen all around us in world events, in everything from Trump to Brexit, 'fake news' and other developments.
Helen Sewell D.Psych.Astrol studied with the Centre for Psychological Astrology under the renowned Liz Greene PhD (and is a Relate-trained relationship counsellor) and gives personal consultations, as well as writing for astrological journals and websites. Helen's 2009 presentation for the Alternative View conference in London was broadcast many times on the sadly departed Sky channel 200 (Edge Media TV). She has also contributed to books such as Geoff Stray's Beyond 2012 and her husband Andy Thomas's acclaimed The Truth Agenda. Her influential article, The Astrology of 2012, anticipated many developments which still have long-term consequences today.
Lecture evenings also include Andy Thomas's regular round-up of the latest news and chat from the world of mysteries and truthseeking research.
*
All meetings are held on Fridays and begin at 8.00pm, prompt, and are held in the upstairs room of our venue.  Admission £7.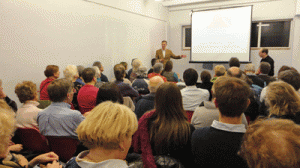 *
WHEN:  8.00pm, Friday 14 July 2017
Admission £7
VENUE:  The Scout Centre (upstairs room), Station Road, Burgess Hill, West Sussex, RH15 9EN
Details can be found on the Venue Directions (our venue) page
Full car parking is available at the Scout Centre