We're 25 this year!
Now in our 25th year, Changing Times lectures provide a forum for presentations, debates and discussions on unexplained mysteries, conspiracies, the paranormal, and social and political truth issues. They are dedicated to encouraging interest in a variety of 'alternative' topics too often sidelined in the mainstream, challenging dogma and propaganda with thought-provoking presentations from high-quality speakers.
Four lectures are held each year between March and November in mid-Sussex. Speakers are introduced by renowned author and researcher Andy Thomas, who chats through the latest news from the world of alternative views and mysteries research before each presentation. All meetings are public and there is no membership system.  Door entry is £7.
*
In November 2016, we celebrated our 25th anniversary. Pictured here with organiser Andy Thomas (right) is Barry Reynolds, who first brought together the group which would become Changing Times! We still meet in the same venue today.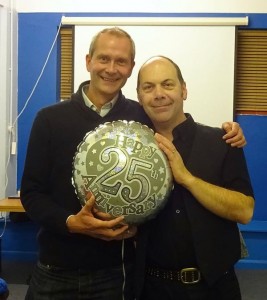 DATES FOR 2017 WILL BE ANNOUNCED IN DUE COURSE
See the Forthcoming Lectures page for details of our meetings.